Whether through immersive environments, in situ encounters or by sharing the stage with spectators, we seek to live a meaningful experience with the audience.
Sandy Bessette and Simon Fournier
Driven by the necessity of a real artistic meeting with the little children, La marche du crabe proposes an array of multidisciplinary shows anchored in a kinesthetic experience for the audience. Combining their expertise in dance, theater an circus, Sandy Bessette and Simon Fournier tackle the different social and human realities of children in a sensible and an intelligible manner. Doing this, the co-creators are trying to diversify the context of representation of their work in a never ending pursuit to renew the spectatorial experience of the children and of the adults accompanying them. Sharing a common vision of what constitutes the performing arts and the workshops around them, they pledge to offer access to the bodies in movement, imagination and unbridled creativity. As such, the company contributes to the accessibility of the arts  and nurtures the ideas of open-mindedness, communal spirit and open exchanges.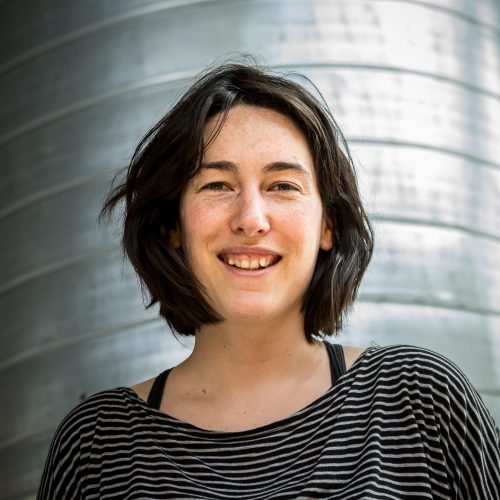 The year 1985. Sandy spins her choreographies and costumes for productions at the entrance of the garage. From her town community center to the Department of Contemporary Dance at L'UQAM, she uses the vocabularies of dance to create connection with others. Her work as a dancer combines improvisation (Les Explositions, the Rien de prévu collective, Les Imprudanses) and ensemble work (Babel et Les Minutes from the festival Montréal Complètement Cirque). She specializes in the creation of children's dance theatre both in Quebec and Europe (Festivals Petits bonheurs in Montréal, Les Rencontres de Huy in Belgium, Méli-Môme and Petits et grands as well as with the companies Point Virgule and En cie d'Eux in France and DynamO Théâtre in Montreal). She begins her work as a director with the dual creations of Un orteil dans le vide, a piece on the theme of grief in collaboration with the street artist Marie-Claude Roulez and Remous remis, exploring a sibling relationship in collaboration with Xavier Malo. Nourished by diverse human and artistic experiences (Culture et handicap: an internship in France, Creation projects in the prison environment, cultural mediation in underprivileged settings), she directs and produces De doigts et de pied, a sensory experience for young audiences. With Le Mobile, a show for infants, she continues to develop her hybrid language of dance, circus and theatre, adding vocal work from her artists and an innovative relationship with the audience.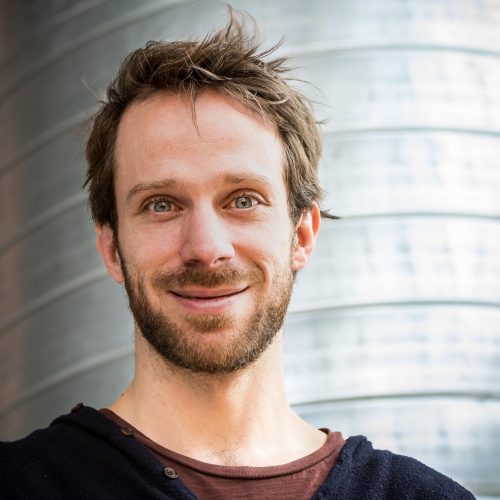 Simon Fournier thrives by the mix of three arts : theatre, danse and circus. Right after obtaining his diploma in theatre at UQAM in 2011, he joins the danse company of Dave St-Pierre to creates the last piece of his trilogie, Foudre, and then keep touring with the company with Un peu de tendresse bordel de merde and La pornographie des âmes. As an actor, he plays in Cassandre Emmanuel's Les amoureux auront des cataractes, André Perrier's Les mots secrets, File d'attente of Théâtre I.N.K. and act as a danse actor in Philippe Boutin's Détruire nous allons and Le vin herbé. As an acrobat, he joins Antony Venisse's Babel (Montréal Cirque Festival) and Jeff Hall's Ruelle. Simon also danse with a number of choreographer namely : Heather Lynn MacDonald, Sophie Gee, Catherine Lafleur and Delphine Veronneau. The company La marche du crabe brings him to take the role of the brother in Remous Remis, Bonhomme in De doigts et de pied and the museum expert in Les explositions. In the new creation, Le mobile, he plays the Ukulele, sings, and narate many stories while doing aerial silks. With his partner Sandy Bessette, he creates many cultural mediation projects for youngs and olds. Simon loves science, in-situ theatre, both of wich are an important part of his work in progress: Amarelinha. When not writing or performing, Simon fathers his 3 years old daughter and explores life, one pebble at a time.
Annual Reports
(French only)
Policies and Regulations
(French only)